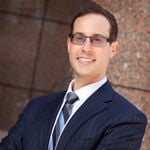 Mitchell Adams CPA
Certified Public Accountant

Nothing is simple when it comes to taxes these days as tax law is constantly changing. Proper estate planning can help to increase the size of your estate, whether large or small. Its basic purposes are to choose how your property will be distributed after your death, help assure that your property will be distributed in an orderly and efficient way and minimize taxes.
Proper planning will help you to provide for your heirs, to lessen the administrative burden on your survivors, and to understand what you'll have to do to minimize estate and income taxes. Working with Mitchell Adams CPA will enable you to approach your attorney and other professional advisors with a clearer idea of what the process should entail.
A little bit about Mitchell Adams
You're not just a number to Mitchell Adams. His passion for taxes and his clients keeps him on top of his game as he is always looking for new ways to benefit his clients, while delivering timely service. He is adept at taking the abstract and applying it to different situations while looking at the bigger picture beyond just taxes. Mitchell's approach to being a tax adviser also includes educating you and working closely with your other trusted advisors. He prides himself on breaking things down into digestible, high-level concepts. However, that may often come in the form of sports analogies (specifically baseball).
Mitchell has broad-based experience in public accounting, having worked at two mid-size firms in the Orange County, California area previously. He is your "all-around" accountant with experience working on high net-worth individuals, pass-through entities, gifts, trusts, and estates, as well as a variety of research and consulting. Specifically, Mitchell is known for his work with athletes and entertainers, closely held pass-through entities, and research.